NYU's Department of Cinema Studies presents
Wavemakers (2012, 96 min., dir. Caroline Martel)
A preview screening with filmmaker Caroline Martel
Following the legacy of Maurice Martenot's wondrous electronic musical instrument.
"Amazing! A film as beautiful and tender as the instrument itself."
– Jonny Greenwood, composer, multi-instrumentalist (Radiohead)
Wednesday, April 24, 6:15pm
NYU Tisch School of the Arts
Department of Cinema Studies
721 Broadway, 6th Floor, Michelson Theater
Screening followed by a discussion with the filmmaker.
Moderated by Dan Streible (NYU Cinema Studies).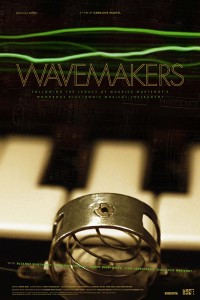 About the film:
WAVEMAKERS (2012, 96 min., dir. Caroline Martel)
After its international premiere at the Rotterdam Film Festival, and a four-week theatrical run in Montréal, Caroline Martel's latest documentary gets a preview screening at NYU's Department of Cinema Studies.
Wavemakers pursues the legacy of an electronic musical instrument as fragile as it is magical: the Ondes Martenot. The Martenot is indeed so sensitive, so expressive, that nearly a century after its invention, musicians, artisans and scientists are still trying to unravel its secrets. Among them are the inventor's son, Jean-Louis Martenot, Suzanne Binet-Audet, the "Jimi Hendrix of the Martenot", and Jonny Greenwood of Radiohead.
Integrating vérité, never-before-seen archival material and an entrancing soundtrack, this feature documentary explores the origins and workings of the Martenot, and draws us inexorably into its spell. A modern-day story set against a historical background, Wavemakers is a journey into the very heart of the mystery of music.
With Wavemakers, Caroline Martel returns with the signature approach that turned her first feature doc about telephone operators into a "non-stop visual and intellectual stimulation… an enormously creative documentary." (Variety). She pursues her fascination with culture and technology, using her distinctive blend of humanism, lyricism and experimentation.
About the filmmaker:
Award-winning filmmaker Caroline Martel's work has been presented to critical acclaim internationally, including at the Toronto International Film Festival and IDFA, on SRC, NHK, and SVT, at the Museum of Modern Art and the Georges Pompidou Centre, as well as at the Flaherty Seminar. Her first feature documentary, The Phantom of the Operator, showed in more than 50 venues and was reviewed as "… an enormously imaginative docu … an hour of nonstop visual and intellectual stimulation." (Variety). Martel has been synthesizing documentary theory and practice for over a decade, with a special interest in archives, invisible histories, and audio/visual technologies and heritage. Her first gallery show, the montage installation Industry/Cinema, was presented at the Museum of the Moving Image in New York in 2012. Martel holds a BA in Communications and an MA in Media Studies, and is a research-creation PhD candidate in the joint Communications Studies program at Concordia University in Montréal. She is currently starting to develop an experimental webdoc on the prehistory of telecommunications technologies.
For additional information, please visit the film's official website.
This event is free and open to the public.
NYU's Department of Cinema Studies
Tisch School of the Arts
721 Broadway, 6th Floor
New York, NY 10003