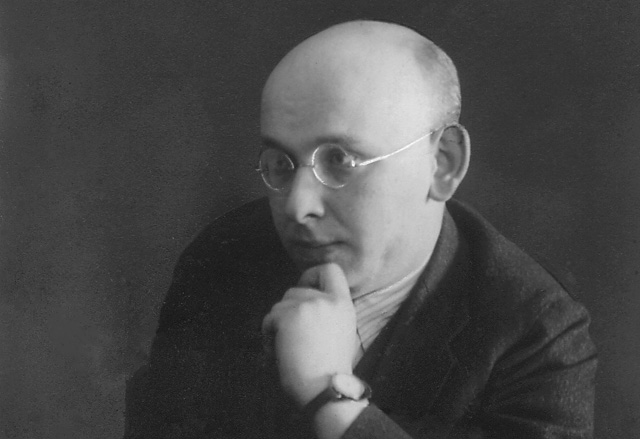 The Austrian Cultural Forum is pleased to present this interdisciplinary evening which will focus on the Nazi propaganda machine and some of its outspoken adversaries.
Event Details here

Shortly after Hitler became German chancellor in January 1933, the Austrian writer Karl Kraus began his work on a documentary essay about the Nazi regime: Third Walpurgis Night. Simon Ganahl, an Erwin Schrödinger Fellow of the Austrian Science Fund, analyzed the media references of Kraus' text, and discovered insights that in fact anticipate Marshall McLuhan's famous postulate, "the medium is the message."
The multimedia lecture will be framed by a live performance of songs by the Austrian composer Hanns Eisler, featuring the singer Theo Bleckmann. New School scholar and composer Barry Salmon has arranged the music for string quartet, which will be performed by:
Joyce Hammann, violin
Mark Feldman, violin
Lois Martin, viola
Jody Redhage, cello
Finally, a discussion on political propaganda, moderated by NYU professor Mark Crispin Miller, will conclude the evening's program.
Theo Bleckmann sings Hanns Eisler's "An den kleinen Radioapparat":

ABOUT THE PARTICIPANTS
Simon Ganahl is an Erwin Schrödinger Fellow of the Austrian Science Fund in the School of Media Studies at The New School. He studied communications, German language and literature, political science, and philosophy in Vienna, Hamburg, and Zurich. His thesis Ich gegen Babylon: Karl Kraus und die Presse im Fin de Siècle, which received the Bank Austria Research Award, was published by Picus in 2006. His doctoral dissertation on Kraus' Third Walpurgis Night received the Science Award of the Federal State of Vorarlberg in 2010. Before he moved to New York, Dr. Ganahl lectured on media history at the University of Zurich. His writings have been published in Der Standard, profil, Medien & Zeit, Weimarer Beiträge, and IASLonline.
Simon Ganahl's blog >> http://barabern.wordpress.com
Barry Salmon is an Associate Professor in the School of Media Studies at The New School in New York. He has composed scores for numerous films as well as music for dance, theater, radio, and video art. Festivals, installations, honors and awards include CINE Golden Eagle, Berlin, Brussels, Frankfurt, Sundance, Telluride, and Toronto film festivals; Chicago Museum of Broadcasting; Museum of Modern Art. He has also written articles and presented papers at conferences on music and sound. He recently contributed a chapter for Kompositionen für den Film, the third volume of a planned seven-volume on the work of Austrian refugee scholar Hanns Eisler, who taught composition at The New School in the 1930s and collaborated with Theodor Adorno on the 1947 book Composing for the Films. Mr. Salmon's current work includes a project on improvisation and ethics and a recording of Hanns Eisler and Bertolt Brecht's Hollywooder Liederbuch arranged for jazz ensemble and solo voice.
More information >> http://www.newschool.edu/facultyexperts/faculty.aspx?id=78761
Theo Bleckmann is a German jazz singer and new music composer who has been living in New York since 1989. Bleckmann has released a series of very well received albums on Winter & Winter, including recordings of Las Vegas standards, of Berlin Kabarett, and of popular "bar songs" (all with pianist Fumio Yasuda), a recording of newly-arranged songs by Charles Ives (with jazz/rock collective Kneebody), his acoustic Solos for Voice "I dwell in possibility" and his latest project: "Hello Earth – the music of Kate Bush". In addition to his work as a soloist, Bleckmann has collaborated with musicians and composers such as Laurie Anderson, Uri Caine, Philip Glass, John Hollenbeck, and Sheila Jordan. Recognized as both a performer and composer, his work spans concerts, installations, theater, cabaret, and performance art. He was grammy nominated and received the ECHO award in 2010. Bleckmann is also professor of Jazz Voice at the prestigious Manhattan School of Music and Adjunct Assistant Professor at The New School, Queens College, and New York University.
More information >> http://theobleckmann.com/
Mark Crispin Miller is a Professor of Media, Culture and Communication at New York University. He is the author of several books, including Boxed In: The Culture of TV; The Bush Dyslexicon: Observations on a National Disorder; Cruel and Unusual: Bush/Cheney's New World Order and Fooled Again: The Real Case for Electoral Reform. He is also the editor of Loser Take All: Election Fraud and the Subversion of Democracy, 2000–2008. His essays and articles have appeared in many journals, magazines, and newspapers throughout the country and the world, and he has given countless interviews worldwide. Miller is the editor of Icons of America, a book series published by Yale University Press. He is now at work on The Marlboro Man: An American Success Story, to be published by Yale University Press in 2011. He is also editor of Discovering America, a new book series from the University of Texas Press.
http://www.acfny.org/event/the-politics-of-unenlightenment-kraus-eisler-nazi-propaganda/