May 3rd  7.00 pm
66 5th Avenue, room 603
New York, NY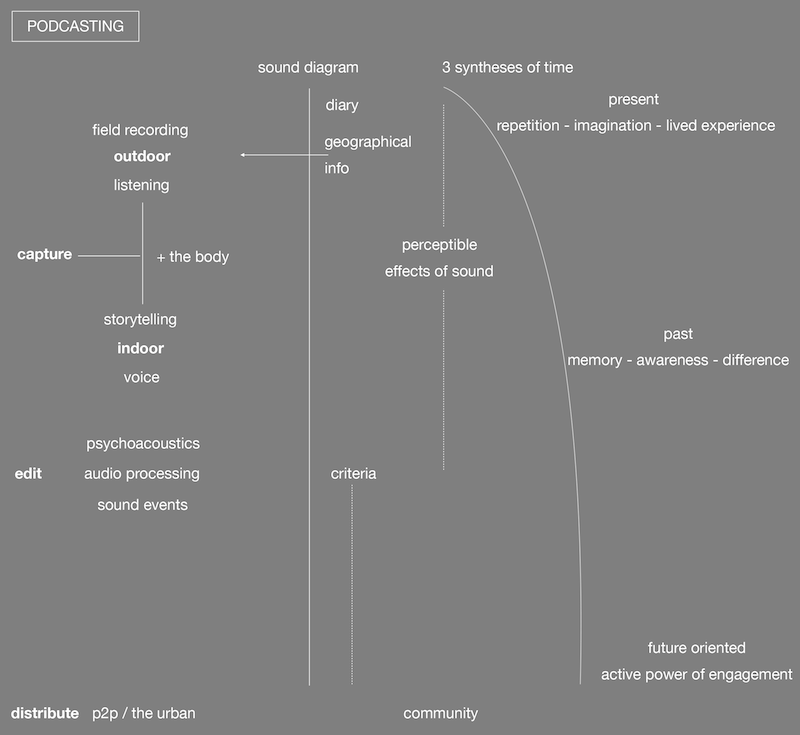 Podcasting The Urban event is based on a transdisciplinary workshop series on podcasting and sound design at The New School. Some of the issues that will be addressed at the event are;
How can the process of podcasting accentuate bodily awareness and feeling of presence? What connections can we draw between sense of bodily ownership, feeling of presence and dwelling patterns, through auditory experience and the making of oral histories? Concerning (modern technological audio) prosthetic devises what are the sensorial, neurophysiological, societal implications? How can podcasting be utilized as a place based associative practice?
Participants
Michael Premo (artist/ cultural activist, Sandy Storyline)
Laura Gottesdiener (journalist, Sandy Storyline)
Frederique de Vignemont (CNRS researcher, Institut Jean-Nicod, Paris, Visiting professor, CUNY)
Mary N. Taylor (urbanist & anthropologist, Parsons, Design & Urban Ecologies)
Molefi Mafereka Ndlovu (Centre for Civil Society, University of KwaZulu-Natal)
http://urbanismpodcasts.wordpress.com/
Workshop instructor: Themistoklis Pellas, urbanist, Parsons The New School for Design
The workshop series has been part of the courses History of World Urbanism and Spaces of Dissent/ Spaces of Control.
Faculty: Dr. Jilly Traganou, Associate Professor, School of Art and Design History and Theory
Info – Urban Podcast Workshop Series 2013:
Audio podcast generally refers to a recorded sound file made available for download through a digital broadcasting medium. Commonly, the podcasting process is approached as a mere technical matter or an information and communication technologies affordance following the co-evolution of the internet, personal computers, portable audio players and Rich Site Summary (RSS) feed. More than this though, the podcasting process crystalizes the contemporary spatio-temporal division of labor and the way the everyday realm of most urbanites is reproduced, from the scale of the body up. Understanding this tendency, the objective of the Urban Podcast Workshop Series 2013 has been to explore how podcasting can be used as a critical urban technique and tool. To achieve this, technical assistance in recording, sound engineering and broadcasting has been combined with inquiries in listening, bodily awareness, qualitative description of sound events and mapping, psychoacoustics, voice qualities, narrative modes, politics. Emphasis has been given on how the process of podcasting can amplify local-relevant urban practices, while providing a sensible understanding on the broader ecological dimensions of places.
In the workshop series podcasting has been approached as a process with three layers and addressed both as a way of knowing & through its produced output. 
Audio thread
Socio-spatial/acoustics framework
Technical prism
AUDIO THREAD
Capture – the direct collection/ production of sound facts (field recording and practitioner's own voice recording) along with the incorporation/ correlation of secondary data (interviews, audio samples)
Edit – the audio processing of the facts
Distribution – the dissemination of the audio work
SOCIO-SPATIAL/ACOUSTICS FRAMEWORK
Drawing from spatial and sensory studies the framework of the workshop builds upon:
Reflexivity & immersion of the practitioner in the site/ situation
How the material self (non-discursive/ discursive) engages with the (human & non human) agents
Narrative building
The produced output as a place based storytelling & intervention into the ecology of the site/ situation
TECHNICAL PRISM
The workshop series are exploratory, while keeping a critical stance towards how technical practices are conceived & appropriated, relating more particularly to:
Sensory, neurophysiological, societal implications
-Political economy of hardware, software, information